Are you in need of a worksheet or a poster but don't have the time to create one yourself? You have come to the right place! Storyboard That has hundreds of pre-made worksheets/handouts for you to choose from, edit, and make all your own! These free teacher templates can be easily printed out and incorporated into your lessons.
What is a Template?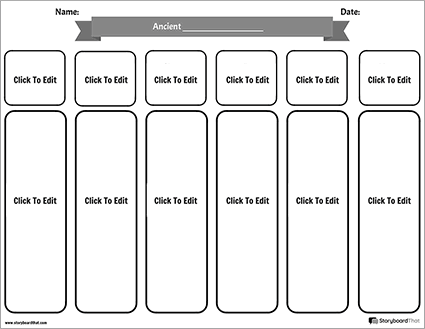 A template is a basic starting off point with pre-made text boxes, headings, borders, and other details you can customize to fit your own vision. Templates can be used across the board in classrooms of all ages and subject areas. They are huge timesavers for teachers, as most of the work has already been done, and they can be copied, tweaked, and reused over and over again.
Types of Templates
Storyboard That has worksheet templates, poster templates, and basic storyboard layout templates; whatever type of teacher template you may need.
Our teacher worksheet template library has everything from math worksheets, tests and quizzes, and flashcards to daily planners, calendars, and plot diagrams. We have templates that can be used for conferences, rubrics, check lists, goal setting, and even lesson planning.
As for our teacher poster template options, you are sure to find what you are looking for. Storyboard That has a huge variety of poster templates including maps, social media posters, newspaper layouts, brochures, and even games and game pieces! For your classroom, you can find behavior charts, birthday certificates, and decorations that your students will love! We have the type of teacher handout template you are looking for.
Template for Teachers Provided by Storyboard That
Our library of teacher templates and resources has everything you need to save time and energy in the classroom. With printable worksheet templates, poster templates, and handout templates, Storyboard That will help you take your teaching game up a notch!
Teacher poster templates can be used for classroom decoration, classroom organization, icebreaker games, and student awards.


Teacher handout templates can be used for worksheets, classroom activities, and even assignments.


Teacher worksheet templates can be used for homework, in-class activities, and assessments.


With our library of teaching templates, you can save time while still being able to create high-quality materials for your students. Templates for teachers are the starting point of creating great lesson material, and there are many benefits to using these resources within your lessons.
Benefits of Using Teacher Templates
Saves Time: With pre-made text boxes, headings, and other details, you can quickly create high-quality materials for your classroom without spending hours creating them from scratch.
Improves Efficiency: Once you have found a template you like, you can use it over and over again with just a few clicks. This allows you to be more efficient in lesson planning and material creation.
Inspiration: If you are feeling uninspired or need some ideas on how to organize your thoughts, looking at different teacher templates can give you the inspiration you need to get started.
Less Teacher Planning: By using templates as a starting point for your materials, you can spend less time planning and more time teaching!
More Engaging Lessons: With high-quality materials, your lessons will be more engaging and effective.
Increased Information Retention: When students are given well-designed materials, they are more likely to remember the information.
Improved Classroom Atmosphere: With beautiful and engaging materials, you can create a positive and welcoming environment in your classroom.
Happier Students: When your students are engaged and enjoying their learning materials, they will be happier in your classroom and more willing to learn.
Storyboard That offers a wide variety of teacher templates to choose from that can be easily customized to fit your needs. Whether you are looking for a worksheet template, poster template, or handout template, we have you covered! With our library of resources, you can save time while still being able to create high-quality materials for your students. Try out some of our teacher templates today and see how easy it is to create great lesson material!
Teacher Template Examples
Worksheet Template
There is a huge selection of worksheet templates, ranging from graphic organizers to reading templates.
As an example, the calendars worksheet template can be used as a way to help teach time management skills or as a tool for students to use to track their homework assignments. The worksheet is split into days, weeks, and months in a calendar format so that each child can see when their assignments are due and what their schedule is.
Poster Templates
Poster templates are a great way to liven up your classroom with fun and engaging visuals while incorporating a learning experience throughout the work.
As an example, the maps poster templates can be used to help students learn about different countries, their landmarks, and even the climate. The poster can be used as a way to teach a lesson or as decoration in the classroom. Children can draw on the printable poster sheets and then color them in to make their individualized posters.
Storyboard Templates
Storyboard templates can be used for various purposes, such as creating a story, illustrating a concept, or even planning out a lesson. You can add them onto an assignment for students to complete as homework, print them out and fill them in during class, or use it for inspiration to get ideas flowing.
As an example, timeline templates can be used to map out the events of a story, the steps in a process or even to show the history of something. This is a great way to practice writing and order of events. You can use the storyboard as a way to introduce the material, have students fill it out during class, or as a review for a test.
Featured Templates
How Do I Use a Storyboard That Template?
To use our pre-made templates for teachers, simply click on the "Copy Template" button directly below the template you wish to use. You will be brought to the Storyboard Creator where you will give your creation a name, and then customize it however you wish!
Do you like the layout, but not the background?
No problem! Delete the background or swap it out with one of our many choices available in "Patterns" category.

Do you want to change the border?
Go right ahead; we have lots of borders located in the "Worksheets" category. You can change the font, the layout, or nothing at all!

Too many images? Not ENOUGH images?
This is now your creation! Add, delete, or even upload your own images!
Getting the Most Out of Our Templates
While our templates are great tools that can help to make your life as a teacher easier, we want you to get the most out of them! Here are some tips on how to use our templates:
Use the "Print" function: Once you have finished customizing your template, be sure to use the "Print" function that is available. This will ensure that your template prints out correctly and at the highest quality.


Use different colors: One way to make your template stand out is by using different colors for each element. This will help to add some visual interest and appeal to your work.


Use different fonts: Another way to add some personality to your template is by using different fonts.


Save your work: After you have finished customizing your template, be sure to save it so that you can access it again later. You can do this by clicking on the "Save and Exit" button located in the lower right-hand corner.
By following these simple tips, you can make sure that you are getting the most out of our templates! What kinds of templates would you like to see? Would you like to see more free teacher templates? Email us at feedback@storyboardthat.com!
We have done the work so that you don't have to; all you have to do is customize the template to fit your needs, print, and you are done.
Frequently Asked Questions about Teacher Templates
What is a template?
A template is a document, storyboard, slide deck, etc., that already has some details in place. Users will make changes and add to the template as they see fit, in order to make it their own.
What are the different kinds of templates?
Storyboard That has worksheet templates, poster templates, and storyboard templates. There are so many options to choose from!
Why use a template?
Templates make planning and executing lessons easier, as the teacher doesn't have to come up with the worksheet from scratch. Templates are huge timesavers for teachers.