The Storyboard Creator is an award-winning, powerful tool for students, teachers and anyone looking to infuse creativity into their work! It is perfect for creating storyboards, graphic organizers, comics, and meaningful visual assets. Storyboard That brings learning and imagination together in an easy-to-use interface!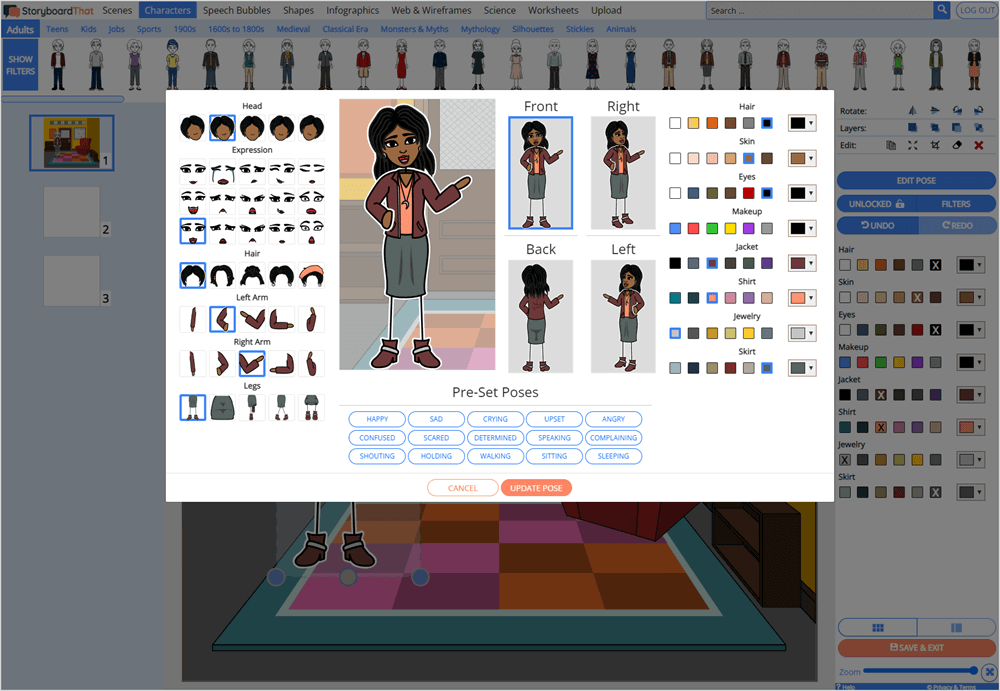 How to Make a Storyboard!
The Storyboard Creator uses a simple drag-and-drop technology for a fun and easy creation experience for people of all ages and abilities. Anybody can be creative with this intuitive platform! All of our art is categorized at the top and all you have to do is drag it down into a cell to start creating your masterpiece! Check out this short video tutorial that shows you just how easy it is to make a storyboard!
Huge Art Library No Drawing Required!
Scenes From Across the World and Throughout Time
Storyboard That has hundreds of scenes with more and more added every day! Find places around the town or city, school buildings, rural areas, different planets, world landmarks, historical places, and mystical and futuristic locales. All of our scenes come with exciting Smart Options to change the time of day, weather and more!
Diverse Characters From Every Era and Culture
There are 1000+ characters with a wide variety of different hair and clothing styles that are completely customizable. Find modern day characters, mythical creatures, aliens, historical people, and animals. There are even silhouettes to make your crowd scenes easier. Diversity and inclusion are at the heart of what we do at Storyboard That. Our goal is for everyone to see themselves in the Creator!
Speech Bubbles Are Just the Beginning
Use our variety of speech bubbles to create dialogue and conversations between characters. There are also colorful and decorative banners, shapes and objects as well as free form text boxes to add descriptions and headers to storyboards, posters, and infographics.
Thousands of Items from Apples to Ziggurats!
We have thousands of items in the Creator from food to vehicles to furniture to maps and so much more. They are categorized under "items" and easy to find with our handy search bar! In addition to all of our items, users have access to photographs from "Photos for Class" to further enhance your options!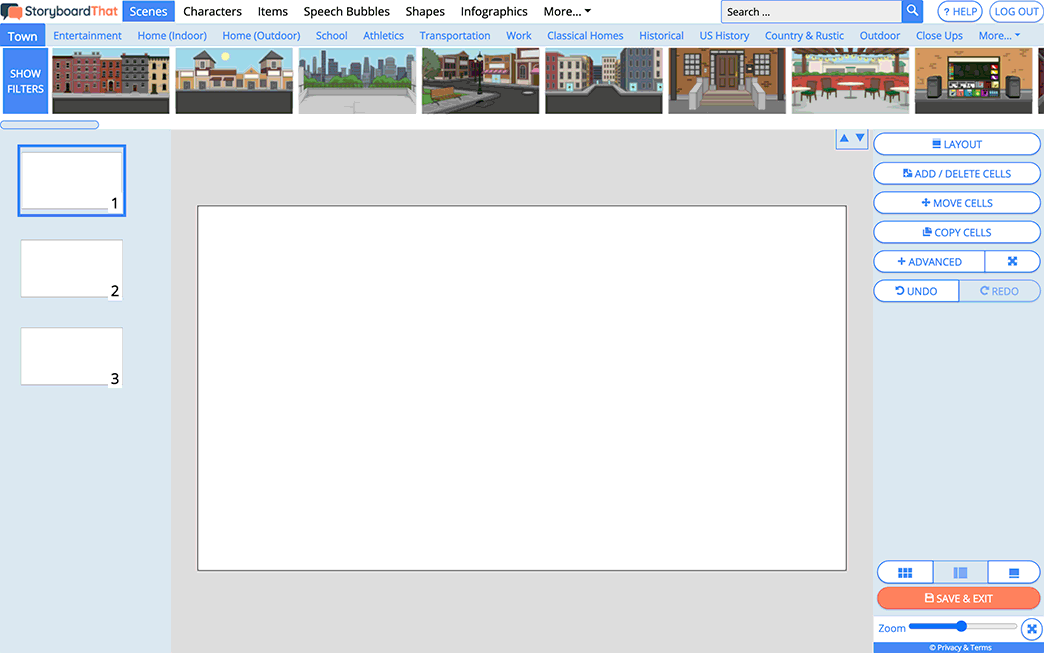 Keep reading for more tips on How to Create a Storyboard!
Customize Everything!
Smart Scenes
Scenes can be cropped and fit to the cell if you want to "zoom in" on a scene, and all can be edited with our "smart scenes" that make it easy to change the weather or time of day to add variety and mood to storyboards.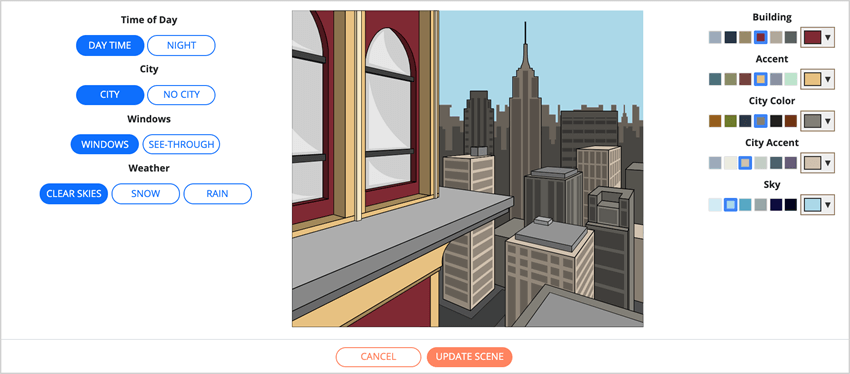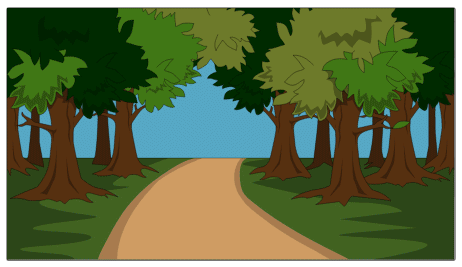 Character Poser
Hair color, skin color, and clothing colors can be customized from every color in the rainbow! Every character can be posed with a range of emotions available to fit any story. Use the pre-set poses for faster creation, or fine-tune the pose to be exactly what you want.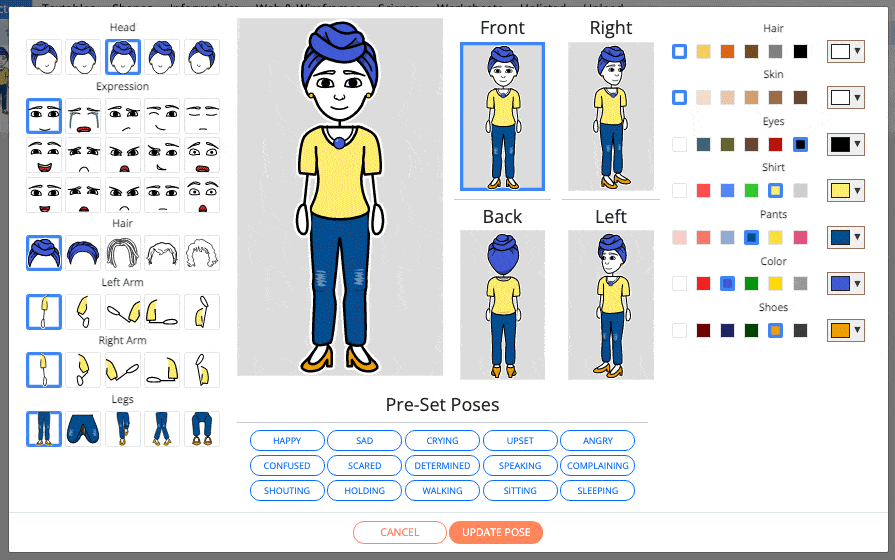 Extensive Text Formatting
Customize text font, size, color, and more with our comprehensive text editor. Included with the text editor are all the features you need: fonts, bold, italics, superscript, subscript, alignment, line height, text color, highlight color, special accent keyboard, tables, and more!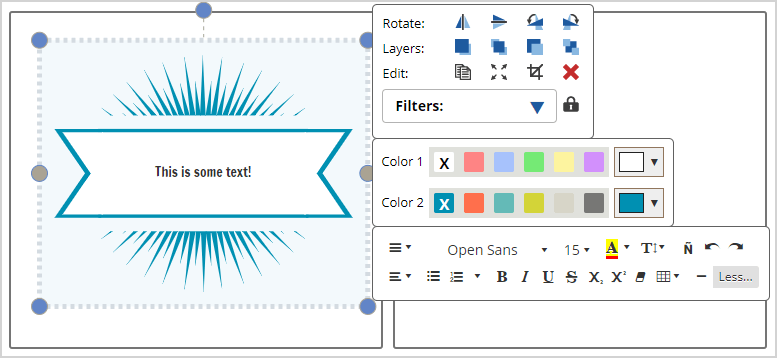 Once art has been added to a storyboard, it can be edited in a variety of different ways. Crop, flip, rotate, or make it bigger or smaller! Want a person standing behind a bag or another person? You can change the layer art is on to send them back or bring them forward. And there's no need to drag a character down again when you want to re-use them - there's a copy button in addition to a copy cell option that will duplicate your art to make storytelling easier and faster!
There are also ways to edit the layout of your visual story board outside of just changing what it looks like. Add or remove cells to ensure you have the space you need, copy or move cells to get the story just right, or check out the "Advanced Tools" to enlarge cells, add grid lines to make composition easier, or clear the entire storyboard to start from scratch.
Thousands of Resources!
We provide over 3,000 resources for teachers of all grades and subjects including standards aligned lesson plans and activities, worksheets, poster and storyboard templates, graphic organizers and so much more! All of our teacher resources are made for teachers by teachers to save you time and energy in creating dynamic lessons that your students will love!
The possibilities are endless when it comes to the Storyboard Creator. If you're looking for inspiration or just have a suggestion, reach out to us at hello@storyboardthat.com!